More Giveaways!!
I found more lovely giveaways!! *Click on the bold title to go to the giveaways!*
Miss Comfort/o/logy Giveaway ends on 3rd September.
This is the first prize for the giveaway! But the second and third prize is equally beautiful. Wanna see what it is? Get your lazy butt over there... I already posted up the first prize. Heh.
Be a follower for 1 entry, blog about it for another 1 entry and if you have a Twitter account and you let everyone know about this giveaway then you can have another 1 entry. I personally don't have a Twitter account cause no one cares about me. Haha.
Painted Lady Finger's Giveaway ends of 4th September.
An awesome nail art kit by non-other than Konad. The Coraline Set consists of 3 beautiful nail polish, 1 set of scraper + stamp and 2 image plate. I want! I want! I haven't watched Coraline yet but the preview is great! Can't wait till it comes out...or is it out already? Be sure to show off your nails when you get this set!
You can have up to 6 chances of winning cause you get 1 entry for being a follower/subscriber, 2 entries for leaving a link to a post about the giveaway in the comment section, 2 more entries for adding her blog into our blogroll and the last 1 entry for telling her about your experience/non-experience with Konad.
Too Much Blush 300 Followers Giveaway ends on 4th September
Look at all the goodies. By entering this giveaway, you might just win yourself: 1 Mascara, 2 Eye Colors, 1 Eye Palette and 1 Lip Gloss all by Jemma Kid (JK). The packaging is enough to tempt me into entering the giveaway.
Click on follow in her blog, leave a comment why you absolutely have to win this giveaway and post about the giveaway in your blog for another chance at winning. Don't have a blog? Well, chop chop. Time does not wait for anybody.
The lovely products are CD Notebook, Revlon Double Twist Volumizing Mascara in Blackened Brown, Sally Hansen Spa Foot Mask, Stripe Rite Nail Art Paint in Black, Burt's Bees Beeswax Lip Balm, Japanese Fringe Clip and Mimi's Diva Dryer Microfiber Facial Mitt.
So follow and blog for 2 entries. I wouldn't mind having a CD Notebook so I can brag about it to my friends (I'm lame like that). Burt's Bees Beeswax Lip Balm is great also! Wonder if it tastes like honey...Mmm.
This pretty little ring is just crying out for you to win it. Just take note that this is NOT real diamond. Follow for 1 entry, blog for 1 entry and follow her Twitter for 1 last entry = 3 entries. Check back from time to time cause there might be more prizes up for grab!
Fresco Phyrra EcoTool Contest ends on 9th September.
An EcoTool 5 Piece Travel Set the prize and you don't have to follow her blog (you can if you want to). Just simply fill out the form in her blog telling her what you would like to see a video tutorial on.
Check out all the pinkiness! Brands include Hello Kitty, Korres, RMK, Paul & Joe and MajoMajo! Follow and leave comment for 1 entry and blog about giveaway for 1 more entry. (Sorry if you're getting tired of reading the same thing, it's just that I'm running out of ways to make the same thing sounds interesting.) Miss Comfort/o/logy is also run by HelloDenysia.
Do Not Refreeze First Giveaway ends on 17th September.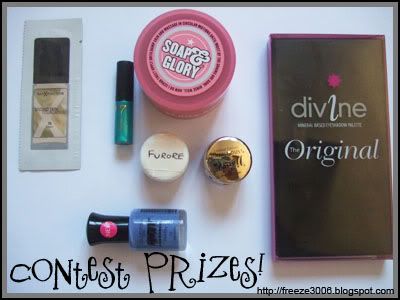 Soap & Glory! Barry M! Divine! and many more. This can all be yours if you follow her blog and Twitter, blog about it and leave a comment telling her what is your proudest moment. It can be when you finally don't need diapers or learnt how to tie your shoelace...after 18 years.
Lizzard 50 Followers Giveaway ends on 24th September.
Always want to own a Givenchy but never have enough $$? If Lady Luck is on your side then you might just win this! Oh boy, oh boy! The eyeshadow, lip gloss and mascara can all go to hell for all I care. What I really want is the face powder. So follow her blog and leave a comment telling her your favorite product from Givenchy that you have tried and if you haven't tried anything from Givenchy, it's okay - we're in the same boat.
Sweet Shuga Hon 100 Followers Giveaway ends on 25th September.
This is to all the M.A.C fans out there. This time you get to choose your prize which consists of 1 Eye Shadow, 1 Lipstick, 1 Blush and 1 Lip Glass all in the colors of your choice! You must follow AND blog about this giveaway to be valid for entering and finally leave a comment stating which color you want for which product.
Look at all the lovely hair bands. There is also a full size Dr. Jart Silver Label BB Cream. Head over to her blog to click the magic button (Follow), post and comment and tell her how she can improve her blog.